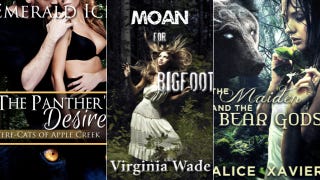 Erotica featuring Sasquatch, minotaurs, aliens, and boar gods may not fit everyone's tastes, but some authors have made a killing selling monster sex ebooks. But some ebook retailers, notably Amazon, have been cracking down on cryptozoological smut, making it harder for writers to sell their books to readers who are…
A major trope in paranormal romance — and plenty of other types of sagas — lately is the idea that two people are destined to be together, or are "bond-mates." Over at Genreville, Rose Fox does a great job of examining why this idea strays into disturbing territory, by removing free choice and turning romantic…
One of the greatest paranormal movies of all time has just gotten a lavish remake, with CG effects replacing the old wirework. And the reimagining of Tsui Hark's 1987 classic A Chinese Ghost Story has swept the Chinese box office.
Paranormal romance author Lynn Viehl bared all last week — she posted her complete royalty statement from her publisher, for her New York Times bestselling book Twilight Fall. And the details might make you reconsider a career as a novelist.
Face it, genre fans — paranormal romance rules the world. Twilight conquered books and movies, and now Campire... sorry, Vampire Diaries is on television. What should science fiction's version of a love story about vampires (or werewolves, or demons) be?
Though some publishers of paranormal fiction scoff at the idea that zombies can ever be romantic leads, they obviously don't realize there's a simmering desire for zombie love among readers and movie-goers. We've investigated the zombie love phenomenon, and brought you some startling discoveries.
Publisher's Weekly has a great run-down of the rapidly growing genre of paranormal romance books, spearheaded by authors like Sherrilyn Kenyon. Among other things, it explains the difference between paranormal romance and dark fantasy — paranormal romance is about the relationship, dark fantasy is usually about other…