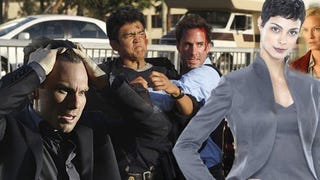 Remember My Own Worst Enemy? Neither do we. Every year, there's at least one genre show that flames out before it even makes an impression. Which new show this year is doomed to premature extinction?
Past Life, airing spring 2010 on Fox, seems to be trying to piggyback on the success of Medium, a show I haven't actually seen. You have a kind of procedural crime-solving aspect to each episode, but there's also a spooky supernatural aspect. And it's all sprinkled with a dash of personal growth. It's very loosely…
Fox rolled out trailers for its Spring 2010 genre shows... and they look like warmed-over copies of existing stuff. Check out the terrible translation of Human Target along with Medium 2, no wait Past Life.