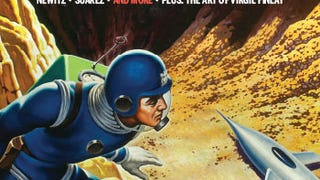 MIT's Technology Review has a bit of a secret: just about every year, they put together a science fiction edition titled Twelve Tomorrows. It's one of the best collections of short science fiction out there, and you can now preorder the upcoming issue.
Wind-Up Girl author Paolo Bacigalupi's essay over at Wired is both a must read and a quick read. The essay is mostly about how Cyberpunk saved science fiction by shaking up the complacent view of the future that had dominated for decades — but then he broadens out into a more general theory of science fiction as a…
Not all alien visitations look like a giant saucer descending from the skies. Sometimes aliens just look like visitors of a different kind, as in this classic story by Pat Cadigan. The other day, we featured Cadigan's essay about loving the Other — now here's her story "Angel," as featured in the new anthology Alien…
Cyberpunk has fallen from its peak in the 1980s and early 1990s, but the great cyberpunk authors are still writing. And many of them have turned to fantasy. Why is this?
Vinconium and Light author M. John Harrison posted a list of "some interesting science fiction" that's been causing lots of discussion — it's not framed as a list of essential SF reading, or the greatest SF books of all time, just books that "turned [Harrison] on when he read them." And yet, it looks like a pretty…
Science fiction is full of fascist governments, especially in the decades after World War II, but some of them just seem like more fun than others. But some scifi fascists don't seem like they would govern that well — for example, the BBC series Doctor Who clearly uses the cyborg Daleks as a metaphor for the Nazis,…