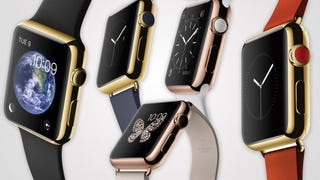 Over the weekend, economist Paul Krugman wrote an interesting column for the New York Times that explains why Apple is emphasizing wealth and luxury in its Apple Watch campaigns. Krugman believes that's because all wearables are aimed at giving you an experience that only super rich people can have.
We all know that economists love science fiction — especially Isaac Asimov fan Paul Krugman. But science fiction and fantasy can also help teach ordinary people about the Dismal Science. Here are 22 great science fiction and fantasy stories that can help you make sense of economics.
Back in 1996, economist Paul Krugman wrote an essay about the next 100 years of economic history, as if looking back from the year 2096. At the center of that essay was the notion that white-collar jobs would disappear, and a college education would become much less valuable. And is this already happening now?
Our economy is huge, incomprehensible and potentially deadly if you take a wrong step — just like space, in fact. So when it comes to understanding the fundamentals of economics, you need to read some classic and recent science fiction novels. Luckily, Paul Krugman and Noah Smith have provided a reading list.
Nobel Prize-winnng economist and NY Times columnist Paul Krugman engages in a verbal smackdown on Bitcoin, pointing out that the cybercurrency has experienced "massive deflation" and is creating a community of Bitcoin hoarders. [NY Times]
It's become a cliche to say that our world is changing faster and faster, as we hurtle towards an ultra-advanced future. But it's not true, Nobel Prize-winning economist Paul Krugman told Worldcon. Actually, change is slowing down.
Excited that next week's WorldCon in Montreal features such diverse guests as Neil Gaiman and Paul Krugman? And that it celebrates both Canadian and libertarian SF? WorldCon is offering "taster" memberships so you can see if the excitement holds up.
If you didn't already worship visionary writer Charles Stross, a new virtual seminar on his works by a group of luminaries and amazing writers will convert you. Among the highlights: Paul Krugman on transdimensional economics.
Newly Nobel Prize-winner Paul Krugman was inspired to become an economist by reading science fiction, as Patrick Nielsen Hayden over at Tor.com reminds us. Krugman says he read Isaac Asimov's Foundation trilogy and wanted to become a psychohistorian — a career that sadly doesn't exist yet. Instead, Krugman wrote a…
How would an interstellar trading empire figure out how long goods had been in transit, for the purposes of calculating interest? After all, if the shipping vessels are traveling at close to the speed of light, the shipping time will seem longer to an observer on the ground than it would to someone traveling on the…