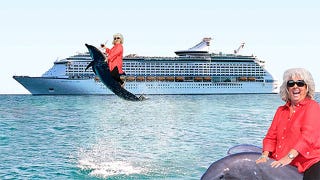 The Food Network and Walmart ditched her after news of her rampant racism, but Paula Deen has also gained plenty of supporters. Proof: the increased demand for her cooking cruise. So many, says Anna Breslaw in Jezebel's Dirt Bag, that they are now using two entire cruise ships.
Jezebel's Tracy Moore answers a common question these days: "Why is anyone surprised that Paula Deen is racist? She's an old white lady from the South!" Thinking that everyone in Dixieland is a racist is wrong, she argues—but "there are definitely lot of racists there" and she has collected them all in a guide.
Atrocious diabetes monster Paula Deen put out another rambling apology for "the N-word" and other racially wacky actions—such as dressing her black employees as "slaves" and then treating them as slaves—and was promptly dismissed from the Food Network where she inexplicably became a TV star for serving pig slop.