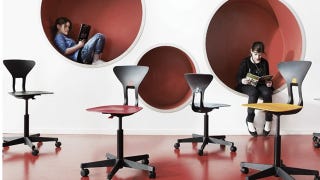 Turns out, sitting hunched over a desk for eight hours a day isn't all that great for a kid's posture, and the spinal contortions needed to lean over a flat desk certainly do nothing for a student's ability to focus on the day's lessons. However, this rolling chair from Dublin-based industrial design firm Perch aims…
Remembering to pack your phone's charger while traveling is even more important than clean underwear these days. And with a few subtle chirps, the Perch promises to remind you to pack your most important of cables.
The U.S. military is working on a series of miniature spyplanes that will perch on power lines and suck down juice when their batteries get low. Just be prepared when the sentient battlecruisers start rolling down your streets at night and sipping from your gas tanks while you sleep.