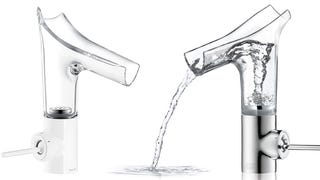 Since most faucets are nothing more than a metal tube, you rarely get a glimpse of the magic inside when cold and hot water come together to create warm water. So Philippe Starck designed the Axor Starck V, a crystal clear faucet that creates a vortex as the streams of water mix and bubble up and out.
In a surprising turn of events, students around the world might soon be crediting their dog for actually helping them complete their homework, instead of using man's best friend as a scapegoat. But that assumes that every student has access to this adorable dog desk designed by Philippe Starck.
Better known for the company's hardware that reports the weather outside, Netatmo has teamed up with Philippe Starck to create a new device that gives you complete control over the climate inside your home from your smartphone. And unlike similar wireless thermostats from Honeywell and Nest, Starck has ensured that …
Philippe Starck is known for designs that are as functional as they are beautiful. So it's not surprising that when it came to designing a sofa, the results would include everything from privacy dividers, to accessible power outlets, to even a Powermat wireless induction charging pad. There's probably a good reason…
When he's not finding ways to get you drunk in mere seconds, Philippe Starck spends his time designing some of the most beautiful everyday objects we've ever seen. From juicers, to hard drives, to now a set of stunning fitness gear including free weights and jump ropes.
Jonny Ive is about to kick someone's ass: eminent French design homme Philippe Starck just said he's behind an amazing Apple mystery gadget. And it's coming out in eight months. One problem: Starck's stuff is sometimes very ugly!
Living in a tiny apartment is no longer an excuse for living off of Ramen noodles. Philippe Starck has created a complete kitchen that exists inside a set of rotating towers, complemented by a sink and range equipped dining table.
Cramming 500GB of storage into that molten silver casing, LaCie's design partnership with Philippe Starck has gone USB 3.0 for faster data transfers—though of course it also works with USB 2.0 ports, too.
This rather bizarre-looking creation isn't a solar panel that's normally found on a roof—oh no, it's the latest work from Philippe Starck, and is made from OLEDs and stainless steel. It's a light. A very, very pricey light.
The world needs to figure out its energy problems. Fast. Enter our saviors: a new salvo of gonzo wind power generation systems that break the solution into small, bite-sized parts. From odd, transparent windmills that fit on your urban rooftop (pictured) to handheld devices, wind power might just save us all. And it…
If you like famed designer Philippe Starck, you won't be able to resist his latest creation, the Veiled Watch. Its electroplated crystal looks so much like the band that it's hard to tell where one stops and the other begins. First appearing to be merely a stainless steel bracelet, if you look carefully you can see…