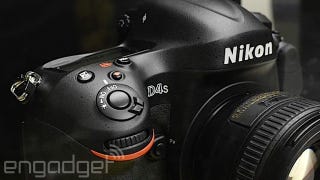 While Nikon will show off its new pro-grade DSLR, the D4S, at CES, the camera has already been unveiled at an official press event over in Hong Kong. Here it is.
If you worry that your SD cards just can't keep up with the pace, fret no longer. Toshiba has the world's fastest SD cards, in the shape of the new Exceria Pro SDHC series, to deal with your ridiculous data acquisition needs.
The PowerShot S90 is our longstanding favorite point-and-shoot, and one of its few shortcomings was that it couldn't do HD video. The updated S95 shoots 720p video and does it in a slightly smaller body.
Canon just pulled the sheet off three new PowerShots: the S95, a 720p-shooting update of our good old friend the S90; the SX130 IS, a $250 ultra zoom; and the SD4500, a 1080p capable point-and-shoot with 10x optical zoom.