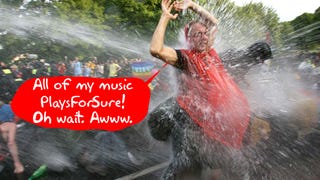 Microsoft will extend the life of its MSN Music servers—that authorize its old purchased music for new PCs or players—to at least 2011, after originally scheduling them for shutdown later this year. After "careful consideration", it decided it was a good idea to hold off on screwing the poor folks who bought songs…
Microsoft probably thinks they're making things easier by rebranding its PlaysForSure program as simply "Certified for Windows Vista," the sticker that's slapped on all manner of gear and software. But they're not—they're folding apples into oranges, making for an even bigger flustercuck. Cue confused customers…
Remember when Microsoft decided to create a new form of DRM for the Zune marketplace, making songs bought using their PlaysForSure system incompatible with their new player and songs bought through their new store incompatible with all other players? That was hilarious! Well, it turns out that the wall set up between…
Although it seemed like Microsoft was abandoning the PlaysForSure platform when they made Zune use its own proprietary WMA DRM, they've just announced a new DRM called PlayReady that brings PlaysForSure to mobiles. PlayReady, designed for cellphones and smartphones, will be provided to network providers like Verizon…
The MobiBLU Cube 2 is officially out in the US. The MP3 playback is improved with WOW HD sound enhancement technology from SRS Labs (for whatever that's worth). Also, the Cube 2 features a 65k color OLED screen that can playback WMA movies at a massive .5-inches and supports PlaysforSure.
Best Buy jumps into the fray with its own private branded MP3 player, the Insignia NS-DVxG with a 2.2-inch screen, Bluetooth connectivity and a microSD slot. It'll be supplied by Korean manufacturer Joytoto, and will place itself squarely into the Microsoft Plays For Sure camp, with Janus DRM playing back WMV video…
More Zune news courtesy of various people in various places of product development. This time our tipster says the Zune is only the flagship product of a new line of portable devices. Think the iPod Video in relation to the iPod Nano and the iPod Shuffle. Important, but not the only kid on the block.