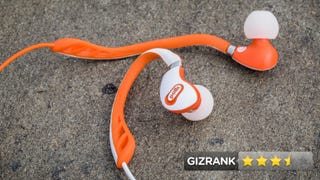 A pair of exercise earbuds has to do more than just muffle the sound of your labored breathing. They need to be durable and sweat-proof, they need to stay in place when jostled, and they need to sound great. Of all the pairs we've taken out running, the Polk Audio Ultrafit 3000 might be the best buds yet.
The disdain I harbored for that ridiculous Altec Lansing Guitar Hero "stage monitor" was fading this morning, but news from Polk that they, too, would be entering the world of fake music accessories revived those feelings anew.
A speaker system can cost as little as $35. Or as much as $350,000. As a normal person, you probably have just one question about speakers that cost as much a Ferrari: What. The. Hell.
The surround-bar concept is getting around, so much so that Sony—originator of the all-in-one Dream system—is finally on board. The Sound Wall Home Theater System RHT-S10 doesn't have a DVD drive, like the Philips Ambisound or the Polk's SurroundBar 360. Rather, it's a full audio-only 5.1 system with no rear speakers,…
The Skinny: Polk Audio SurroundBar 360 DVD Theater rocks the 5.1-channel sound with one slim bar-shaped bank of speakers. Pop a DVD into the separate console and you've got an instant home theater that can toss sounds every which way. The Catch: We're wondering how gutsy that "PowerPort" bass is going to sound, but…
Apple is working with iPod dock makers JBL and Polk on a system that allows anything heard on an HD Radio/iPod dock system to be tagged and sent to an iPod, which will later be transferred to iTunes. Once on iTunes, a playlist is presented where users can purchase any tracks they heard while listening to HD Radio.…
OK, we're calling it: this is the year of the sound bar, those long, slender speaker boxes that you see freakin' everywhere. (Today alone we mentioned three companies introducing a total of six new models!) When our very own Brian Lam was at CES this past January, he heard the editor-in-chief of a top home…
Polk Audio, a company known for producing superb speakers, is dabbling into the iPod accessory market (like everyone else). Welcome the Polk MiDock10. This $180 iPod speaker dock pumps out the tunes via two 3.25-inch full-range drivers. It includes an auxiliary port for other players and convenient handles for rocking…
There were so many iPod accessories at CES last week that it was nearly impossible to see them all, which is how Polk's new miDock Studio managed to slip by us. The $229 speaker system has two 3.25-inch full range drivers and a backward slanted design that shoots sound straight up at you. At $229 it's cheaper than…

Like some odd-looking pentagonal-shaped polyhedron flying saucer from a 50s flick, here's a hemispherical loudspeaker that's made especially for musicians performing on stage. Electrolap makes this Hemisphere Point-Source Emanation Loudspeaker, a $599 enclosure that contains six Polk Audio db525 drivers and weighs…
Looking a bit like something from Bose, the Polk I-Sonic entertainment system is supposedly the first of its kind to include HD Radio, a DVD/CD player and XM-Ready technology in one compact audio product. With dimensions of about 14.5" x 9.75" x 4.75", it's wired up with XM's Connect-and-Play technology, so all you…