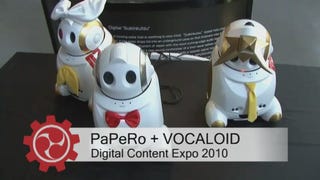 While many people appreciate Hayao Miyazaki's ability to craft great stories, few realize the strange genre mashups he has constructed. With his latest, Ponyo, still in theaters, it's time to recognize the genre innovation of this visionary animator.
Hayao Miyazaki's latest film Ponyo may be inspired by "The Little Mermaid," but amidst its stunning underwater scenes and raging storms, it's less a tale of romantic love than of strong, self-sufficient characters eager for new adventures.
Matt Damon, Tina Fey, Liam Neeson and a whole host of Hollywood-types lend their voices to the redubbed version of Hayao Miyazaki's Ponyo. The aquatic story is loosely based on the original Little Mermaid, but with that jaw-dropping Miyazaki touch.