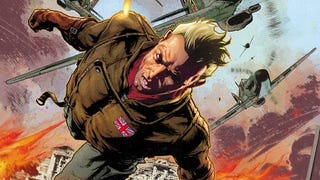 That's the premise of Rob Williams and Simon Coleby's new Vertigo comic Royals: Masters of War. In this alt-history, royal blood bestows superpowers, but these kings and queens have an agreement to never join their respective wars — that is, until World War II forces England's Prince Harry to take action. All that and…
Elizabeth Beals puts DC's female heroes and villains in fashionable street clothes inspired by their spandex work outfits. Now she just needs to tell us wear Harley Quinn buys her clothes.
Obviously, there's a lot of terrible things going on in the news recently, but take solace in the fact that the important stuff — namely, your ability to see a comic book superheroine's breasts — is back on track, as Power Girl has returned to the suit that made (part of) her famous in the most recent issue of …
Superhero romance is a bit like unstable nitroglycerine, in that A.) it's very rarely handled well; and B.) it often blows up in everybody's face. Here are ten times your favorite crime-stoppers experienced relationship foibles mere mortals like you and I can barely comprehend. Remember when Superman made an adult…
Fables writers Bill Willingham and Matt Sturges's run on Justice Society of America is about to get a whole lot bigger, as the book will be splitting in two to tackle the team's gargantuan roster.
It looked like a quiet week in the world of comics following last weekend's Free Comics extravaganza - but then I saw the following words and knew differently: Plan 9 From Outer Space Strikes Again.
Secret identities. Do we really need them? More importantly, do superheroes? And how do they really work? (Do they?)