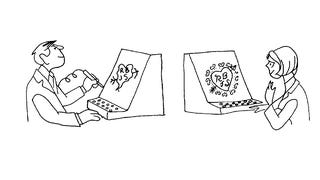 In a few years, men will be able to communicate more effectively through a machine than face to face. Sounds obvious today. But in 1968, a full year before ARPANET made its first connection? It was downright clairvoyant.

This holographic computer game of the future is from the 1981 book Tomorrow's Home by Neil Ardley.
Terry R. Hiller wrote an article titled "Going Shopping in the 1990s" for the December, 1983 issue of The Futurist magazine. Mr. Hiller was understandably skeptical of the prospect of electronic shopping. However, many of the things he asserted would not come to pass did indeed happen.
The most accurate prediction of the 1967 film 1999 A.D. was that of "fingertip shopping". With a video console channeled into the store of your choice you could (gasp!) shop from home.