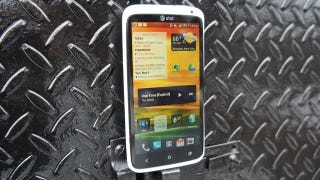 HTC's fortunes aren't going so well. At the start of the year, the company announced a 22 percent decline in operating income, year-on-year. Today, it's had the misfortune to announce that its second quarter net profits for 2012 are down a hideous 57 percent compared to the year before.
Not in the hilarious sense, of course, but in market cap. Turns out the iPad-pumping, MacBook Air-refreshing Cupertino company is on track to surpass profit-happy Exxon Mobil as "most valuable company" if the iPhone 5 is a hit. "If." [Electronista]
Having already bested the rest of the mobile industry in profits and revenue, Apple has finally snatched the #1 spot by volume, making it the biggest smartphone producer in the world for the first time. Apple shipped 20.3 million iPhones in the 2nd quarter, while former #1 Nokia dropped 34 percent to 16.7 million in…
HP reported their quarterly earnings today, and managed to beat expectations across the board, almost half a billion dollars above analyst predictions. Due to the positive news they've ramped up expectation for 2010 by $1-2 billion. Suck it, recession! [ZDNet]
Sony, just about the biggest and most far-reaching electronics manufacturer around, announced a first-quarter loss of $390.5 million. They've been taking a beating across the board from Apple, Nintendo, Nokia, Canon and Samsung, and aren't excelling in any one field.
According to a new teardown report by iSuppli, the $79, third generation iPod shuffle costs Apple a total of $21.77 to build and box. Here's the cost per component:
A few years back I read an enlightening article on Red Bull detailing how a series of brilliant steps turned a cough syrup soda into a world-leading energy drink. At the time, their factory employees generated $1 million apiece—a figure that almost makes sense when weighing the cost of mandatory personnel alone. Now…
These are the current software profits for Nintendo, Microsoft and Sony based on first-party game titles published under their banner. It's much like the hardware situation, with Nintendo up front with an uncountable amount of money, Microsoft somewhere in the middle with a deficit, and Sony pulling up the rear with…
Motorola's revenues were down 19% from a year earlier, reporting a second quarter loss of $28 million. You'd think making the same phone 19 times would guarantee big money, but we guess not! As we said around the RAZR2 launch, the phone is just another RAZR design evolution, not something drastically different enough…