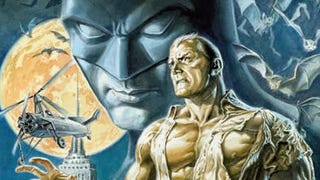 Hope you've been saving up your pennies for this week's comic haul: There's an impressive amount of new releases that you'll want to take home and cherish for at least the next seven days. Yes, these are Comics We Crave.
More dead are rising at DC, Marvel looks back at its long history, and it's left to the indies to offer up the most interesting books of the week. As ever, these are New Comics We Crave.
Project Superpowers may be - in its own, quiet way - the oddest, most subversive superhero comic around... plus, thanks to co-creator Alex Ross' covers, one of the best looking. Here're some examples of Ross' covers to the new series.
Never mind Captain America maybe coming back from the dead (Okay, do mind - it's worth the read) - there's plenty of other things to check out in the new comics hitting stores tomorrow, including intergalactic chefs and undercover superspies.
Let the New York Daily News claim that this week in comics is all about the replacement for the dead Captain America. Sure, watching Bucky Barnes go from teen sidekick in WWII to cyborg assassin in the Cold War to new Sentinel of Liberty may be an enjoyable pastime. But for those of us in the know, there's only one…