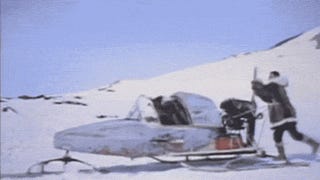 So you think the airscrew is strictly for planes? Guess again. Look at these mighty prop-driven machines created by some of the most talented engineers and designers the world 'round. Sure, they can't fly, but their twisted blades help them wade through water, ice, snow, mud, glide on rails, and rule the road.
You really can't beat the Creator series. For $20, the Propeller Adventures set gives you three models in one set, which you can build from the same pieces. A two-engine plane that transforms into a jet that transforms into a hovercraft—plus an extra model instruction booklet that you can download from Lego's site.
What if one of the schemers of Alfred Hitchcock's movies had superstrength or psychic powers or the ability to keep witnesses from delivering exposition in front of the police? Rex, the central character in Ricardo Mo and Alberto Muriel's webcomic thriller Propeller wears a pair of specially designed bracelets that…
What if Alfred Hitchcock had applied his feeling for suspense to modern superhero movies? Artist Alberto Muriel takes scenes from classic Hitchcock films and recasts the characters with superheroes and supervillains.
Google is finally make strides in the world of social. Google + is gaining traction and the company is supposedly working on several new apps including a social news reader known as Propeller.
With a 200cc lawnmower engine, a handmade propeller, and some spare paraglider parts (that he just happened to have kicking around?), Russian tinkerer Sergei Khvalin created a cross-country skiing rig that can send him zipping across the snow at speeds of 25MPH. It weighs 34 pounds, and thus, he explains, can also…
Chinese company Harbin Smart Special Aerocraft has spent 12 years and over $4 million developing its unmanned flying saucers. Somewhat reminiscent of the Honeywell Micro Air Vehicle, the unmanned drone has propellers that run on methanol, a top speed of around 50mph, and can stay at an altitude of around 1,000 yards…
Researchers in Singapore have demoed a flying model that uses a strange paddle-wheel-like propeller design that was first patented in 1893. The cyclogyro's flat whirling propeller-blades look like the comical contraptions built in the years before and after the Wright brothers flights, but could potentially be more…