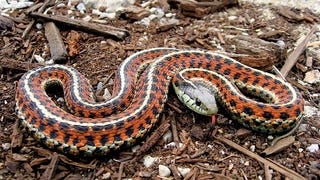 In honor of World Snake Day, which is today, here's what happens when you put a bunch of snakes on a plane...for science.
Close your eyes and touch your nose. If everything is working properly, this should be easy because your brain can sense your body, as well as its position and movement through space. This is called proprioception. But how does this "sixth sense" work — and what happens when it clashes with other senses?
The art installation seen here is named, menacingly but appropriately, Demon Hill #2. It is the work of LA-based artist Julian Hoeber, and to step inside it is to abandon sensations of balance, proprioception, and general physical stability — all thanks to some fiendish architectural trickery.