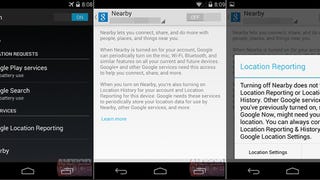 AndroidPolice got an exclusive look at an alleged new feature that's said be coming soon to Android devices: Google Nearby, a next-level contextual awareness suite that would give Google-powered devices an even deeper understanding of where you are and what you're doing, no user interaction required.
Ryan Connolly's short film PROXiMITY takes the familiar concept of "The Most Dangerous Game" and adds an additional rule: players wear ankle monitors that require them to stick close together or suffer the violent consequences.
Apple has just scored a patent with the the US Patent and Trademark Office that's one of the most simple yet ingenious ideas we've seen in a while: a proximity-sensitive volume adjuster on a phone.
Phileo has just developed a watercooler with "human sensor functionality," which can automatically turn on when it detects that someone's within a 3-meter radius. We're not sure what needs to be turned on in a watercooler other than the heating and cooling—which needs to be on all the time—so we're a bit confused at…