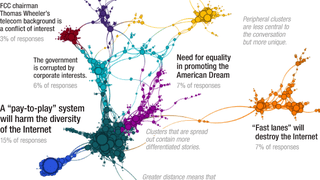 When the Federal Communications Commission asked the public to send their views on network neutrality, it got an earful. The response was so huge that the deadline was extended due to technical problems. Those comments were recently published online as a 1.4 GB file, and NPR has posted this visualization of what they…
15% of the American public has doubts about the safety and efficacy of childhood vaccines; 51% question the validity of the Big Bang theory. These are among the most noteworthy findings from a newly-published survey that asked people to rate their confidence in several statements about science and medicine.
A new survey by Pew Research Center reveals that relying on Twitter to gauge public opinion might not be too smart: the reaction on Twitter to big national and political news seems to differ wildly from that measured by surveys.