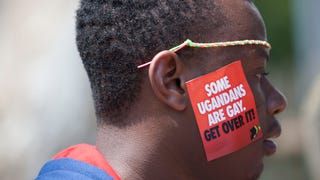 Last week, the Academy of Science of South Africa released a comprehensive review of the research on sexual orientation, hammering home that the grand diversity of human sexuality isn't something people really choose – it's all biology.
SOPA is dead, but its author, Lamar Smith, is still very much alive. In fact, he's just been named the head of Congress' Science, Space, and Technology Committee. That's very bad.
Chemical warfare is nothing new. As early as 428 BC the Spartans were burning wood soaked in resin and sulfur for use against their enemies. And the First World War is often remembered for its horrific deaths due to mustard gas. But the mid-20th century ushered in a new futuristic chemical weapon: LSD.
Though abortion is one of the most contested medical practices in U.S. history, we know shockingly little about how this simple outpatient procedure affects women. There are almost no scientific studies on what happens to women who receive abortions, and even fewer on what happens to women who are unable to get them.…