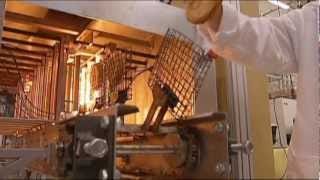 It might look like a souped-up bagel toaster you'd find in a cafeteria, but this radiant heat oven was designed by a Purdue University food researcher to fry up foods without requiring them to swim in a vat of fatty oil. Which means healthier fried foods with less calories, fat, and cooking times.
Yesterday, Purdue University's Society of Professional Engineers broke a world record, creating the world's largest Rube Goldberg device. "Largest" here means containing the most steps, and Purdue's machine goes through 300 steps to inflate and then pop a balloon. The previous record-holder? Purdue University, which…
Rube Goldberg contraptions are cool no matter what—but getting one to mechanize dinosaurs, WWII, the Cold War, and the 2012 apocalypse is extra icing. Extra extra icing is the machine's 244 steps—a new world record for convoluted mechanisms.
The researchers at Purdue University are just full of bright ideas these days, and this weekend was no exception. Thanks to a major breakthrough, they may have overcome a major obstacle for "solid state lighting," which laymen like to call LED (light emitting diode). That obstacle? Cost. LEDs are expensive, mostly…
We've brought you Rube Goldberg-style clocks and toys, but none of them are a match for the 156-step device that's just won the annual Rube Goldberg Machine Contest. This year's challenge was to assemble a burger with vegetables, condiments and two bun halves. The meat was pre-cooked... a sensible idea to avoid fires…
This anti-terrorism concept from researchers at Purdue University puts together miniature radiation counters built right into cellphones across the US. Each solid-state sensor would be able to sniff out radioactive sources from up to 15 feet, and then would send in the location to Homeland Security, the FBI and Jack…
• A Purdue professor is paying students $30 to sniff animal poop and using the research to improve estimations of odor emissions on farms. It's days like this that I am happy I went to Indiana University. [11alive]
• Dealzmodo: All-you-can-eat pancakes at IHOP?! Why am I still sitting here? [Dealnews via BBG]
• Alan…
A team of scientists and researchers at Purdue have developed a fully functional Mr. Fusion. (For those who have no idea what I'm talking about, go rent Back to the Future II asap.) This tactical biorefinery can munch up food, paper and plastic garbage and turn it into energy. This machine was commissioned for the…