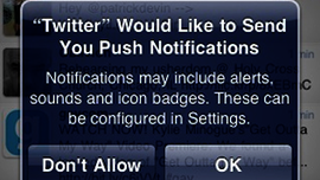 Twitter is currently in the final stages of testing push notifications in its iPhone app, pending a full activation of the feature in the next iOS release. According to TechCrunch, users with iOS 4.1 and its updated Twitter client will be able to enable the feature, bringing them closer still to the dream of full…
Windows Phone 7 won't have full multitasking for third party apps, which, given Windows Mobile's multitasking past, took people off guard. Here's how Microsoft's Scott Guthrie answers for this. Warning: The rationalizations might sound a little familiar.
iTwitter had push notifications for mentions and direct messages, but only from other iTwitter users. You've now got two options for real Twitter push notifications if you're dying for them: iTweetReply and Boxcar. Updated.
Beating established Twitter apps like Tweetie to the punch (push?), iTwitter is the first one to deliver push notifications. But push only works if the person @replying or DMing you is using iTwitter too. It's free $3.99 now. [ReadWriteWeb]
Best non-IM use of iPhone 3.0's push notifications yet: Prowl is a $3 app that pushes Growl notifications from your Mac to your phone. Growl's a global notifier that plugs into everything from BitTorrent apps to iTunes to Mail.