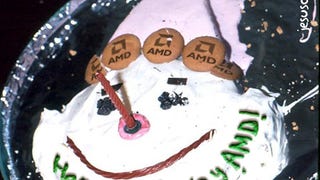 Exhibiting just about every symptom of a suffering company, AMD isn't in great shape. But through a brutal, money-bleeding Q1, they actually caught up with their chief rival a little. Ha, what?
If you saw the mini Samsung Q1 gallery earlier, you would have a hint as to why it could be one of the best UMPCs yet. Slashgear fills in the gaps.
Attention those of you who care about UMPCs. Samsung's Taiwan site "accidentally" put up a shot of what they're going to reveal at CeBIT, and among the devices is a Samsung Q1 Ultra UMPC. The insides will have an Intel CPU, 1GB RAM, 60GB hard drive, a 1024x600 display, 1.3 and 0.3-megapixel cameras, QWERTY, Bluetooth,…
We've never really been on the whole Origami/UMPC bandwagon, but if you do happen to be on it, this deal ain't too shabby. For today only Woot.com is featuring the Samsung Q1 UMPC for $750. It is refurbished, but that is just another way of saying it has received extra care. New Q1 models retail for well over $1,100.
You heard what we thought about the Samsung Q1 Ultra-Mobile PC—slow, too little storage, dial keys hard to use—. Apparently Samsung's reacting to one of the complaints and bundling their device with a "free" USB keyboard and carrying case.
Q1 UMPCs are starting to tumble out of Samsung's greasy maw and into the hands of reviewers. Luckily, the folks at the Washington Post caught one and were unimpressed. The paltry 36GB hard drive and tiny screen make things tough to install and ultimately use and the entire package just seemed underpowered. While we…
The Samsung Q1, that ultra-mobile PC (UMPC) we've been hearing so much about, will reportedly be available worldwide on May 1. It's going to be expensive, too, selling for around $1400. That sounds like a lot to pay for a glorified-yet-smaller tablet PC with a 7-inch 800x480 LCD. It has a few mildly interesting…
Yay! So now we can see what goodies we won't buy along with our Samsung Q1 UMPC. First, there's a sassy keyboard and then we have a charming organizer bag. Oh! And what about the car cradle... you know, for putting in your car? We've GOT to get that. Then there's the ODD, which is some sort of external dock or…
Here you go. The our first video of the much-hyped UMPC from Samsung. Asus is next.

Here's another Origami-compatible computer; this one is the Samsung Q1 which was shown in a preview at CeBIT. It has a 900MHz Intel Celeron chip inside with 500MB of RAM. It s also packing Bluetooth, WLAN, and WiFi 802.11a/g. More information is forthcoming from our intrepid reporters now on the ground (but not yet…