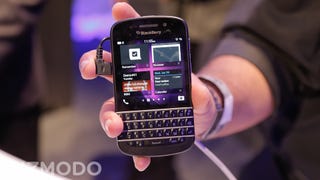 BlackBerry announced two phones today, but it's clear which is the favorite son. The Z10 looks like a winner; it's got brains and body enough to face the iPhones and Galaxy S IIIs of the world head-on. It's got a release date and a price. It's a phone any company would be proud to call a flagship. In fact, its only…
The BlackBerry Z10 might be the prom queen of the BB10 launch, but the Q10 and its physical keyboard is what a lot of people are actually waiting for. "Will I still be able to have a BlackBerry like my BlackBerry after this?" Sure, just better.
BlackBerry's QWERTY handset for BlackBerry 10 is official. Launched today, BB10 and its accompanying hardware do away with a lot of baggage that has been holding the company back, but the physical QWERTY keyboard is here to stay. This slim, lightweight phone with wonderful clicky keys is its future.
Ramos, Chinese DAP maker extraordinaire, has released three DAPs ready to take on the rough and tough world of the portable media player market. You know how I know Ramos is ready for the DAP market? They neglected to mention any of the specs about these players in the press release. Which must mean they all have…