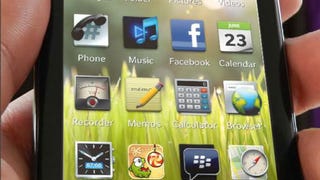 Crackberry came into some supposed BlackBerry 10 OS screenshots from a tipster, which, among other things, shows off a new widget-centric UI.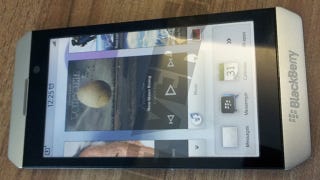 RIM's BlackBerry Dev Con is going on right now, but the big news so far is the unveiling of BlackBerry's ballyhooed new QNX platform for smartphones and tablets, called BBX.
Like the Playbook tablet, which will eventually run Android apps, Bloomberg says RIM apparently plans to enable the same functionality in their upcoming QNX phones. Lacking a bit of faith in your developer community are you now, RIM?
Codenamed BlackBerry Colt, details of RIM's first BlackBerry to run the new PlayBook tablet-like QNX software has been leaked to BGR, and from what they've reported it sounds like same old RIM: a single-core chipset, and lacking BES support, too.
Adding to yesterday's five handsets, RIM's got two more BlackBerrys for 2011 according to their MD of global sales and regional marketing, but as to whether they'll use the PlayBook's QNX OS remains to be seen.
In typical form, iFixit went and kaboomed the BlackBerry PlayBook. IT HAS A SCREEN. IT ALSO HAS A BATTERY. YOU SEE THAT THING?! (If you want to replace it, you'll have to remove the glued-in motherboard). [iFixit via CrunchGear]
While there aren't too many surprises hidden in this leaked roadmap, it's reassuring to see that RIM plans to update its BlackBerry OS in October—could that bring some sweet QNX features?
After acquiring the design firm The Astonish Tribe last year, RIM finally has something to show for it in the form of these scrapbooking and weather apps for the Playbook tablet. They're simple, but also extremely polished and intuitive, taking full advantage of the tablet hardware. Hopefully this is a good sign for…
If this Office Depot slide is to be trusted, the Blackberry Playbook is coming late next month for $500. And that will get you 16 gigs of wi-fi-only goodness. [Crackberry]
RIM's said we might just see phones running the PlayBook's QNX software over their BlackBerry OS in the future. Considering it's a true multitasker, and supports OpenGL ES 2.0 for awesome gaming potential, this is great news.