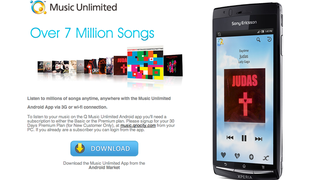 You've waited months for iCloud. You've waited years for Spotify. But Sony just beat both of those to the punch on your phone, with an all-you-can-hear, cloud-based music buffet available right now in the Android Market.
It's not just the PSP which will benefit from an update bringing along the Music Unlimited streaming service—the NGP and Xperia Play will also see the Qriocity-powered service at a later date. The cloud-based streaming service is already available on the PS3 and Bravia TVs, and has six million songs to date. [Eurogamer
Sony's mumble-mouthed "Music Unlimited powered by Qriocity" has arrived in the US today, streaming all the music you can handle, whenever you want, wherever you want—as long as you don't want it on your smartphone. That seems poorly thought out!
Everyone's got a tablet these days, except for one of the biggest names in consumer electronics. Oh Sony, where art thou? If the rumors bubbling at Engadget are true, apparently off somewhere working on a very curious take on slates. Meet the S1.