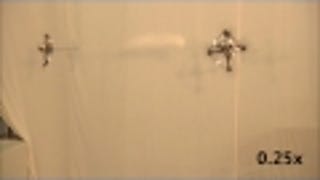 Remember the team of autonomous quadrocopters that could work cooperatively? Well they're back and upgraded with the abilty to thrown and catch objects on the fly. You need to watch it to believe it.
There's something unnerving about watching quadrocopters fly and dart around. It gets even creepier when the quadrocopters team up and become a giant swarm, morphing into different shapes like a living organism. So you can imagine what watching 49 quadrocopters littering the sky feels like. It's like seeing aliens…
On December 2 in Orléans, France, a crew of four quadrocopters assembled a six-meter-tall tower using 1,500 foam blocks as part of the FRAC Centre's "Flight Assembled Architecture" exhibit. The project was a collaboration was helmed by the Swiss Federal Institute of Technology in Zurich, whose researchers had…
I'm so sick of this "robots are evil" trope—we created them. They live to serve. They love us. And they also love each other! Like these swarm bots who scurry around following their quadrocopter pal. Awwww.