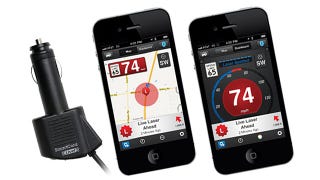 Users of Escort's line of radar detectors are being encouraged to update their power cords to the company's new SmartCord which adds a Bluetooth connection to a smartphone app, providing constant updates on the location of speed traps, red light cameras and other tools employed by John Law.
Cobra Electronics has expanded its line of radar detectors with the world's first touchscreen models, which will let you know of upcoming radar and speed cameras. They've also got the first model for under $200, which unfortch isn't touchscreen.
Jalopnik had the honor of test driving the RENNtech Mercedes C63 AMG SPEC.R. It's a beautiful car, but one of the most interesting features is the radar jamming system built into the rear-view mirror.
I thought radar detectors were a thing of the 1980s until I spotted Cobra's sexy new Super-Xtreme Range Superheterodyne Maximum Performance 12 Band XRS 9950. Even its name says "I drive a long red car very fast for reasons I won't go into now." Seriously, the 1.5" OLED screen on this baby shows you everything from…
Uniden hasn't been long in the GPS game, but its experience in high-end radar detectors goes back years and years. So it's no surprise that, come CES, it will be the first company to introduce a MapTrax GPS navigator with radar detection built in. We don't know much about them yet, like how the radar detection might…
I have to buy a radar detector before snow season starts and the Tahoe PD start crawling all over my ass. For a long time, I'd wanted a Valentine One. I knew it was supposed to be the best a few years ago, but was shocked to see that was still the case today when Alex Roy mentioned he'd used a Val One in his…
The Cobra XRS R9G GPS Radar detector we first saw in January is available now. Why would you want a GPS-enabled radar connector? Besides beeping when you go too fast, it also has an index of police red light cameras and speed traps. [PRNewswire]
The Passport 9500i is a radar detector that has GPS loaded into it, giving you even more of an excuse to dangerously speed without worrying about getting busted. The GPS doesn't do anything fancy like give you directions — no, that would be boring. Instead, it memorizes the locations of speed traps to better warn you…
Here's a gadget for those who learned to drive by watching Mad Max. Cobra's latest radar detector picks up on standard radar and laser guns used by The Man in speed enforcement. But it also has a GPS and a database of known speed traps and red light cameras. That's good for slowing down before John Q. Law pegs you…