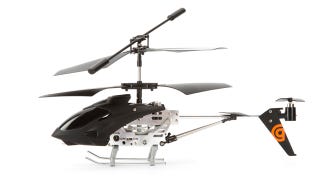 Costing a damn sight less than the $300 Parrot AR Drone, Griffin's Helo TC helicopter can be flown by an iPhone, iPad or iPod Touch using a free compatible app.
Playing rubber duck battleships in the bath (you do that, don't you?) will be more sophisticated now you can remote control your duck. This one has twin propellers, so you can steer him around, backwards and forwards from the waterproof remote. Ok, so it's not quite so much fun as some bath ducks for adults, but it…
Even if the full-sized forklift driving is best left to the professionals, don't let that stop you. Brando's got a hard workin' radio-controlled mini forklift for your desktop that can haul you a Red Bull in no time flat. It has rear-wheel steering just like the real thing, and its fork actually moves up and down,…
We're still working on our piloting technique, but even with the special aluminum weights attached to the nose, the little bugger just doesn't want to go forward. Hovering is its specialty, as you can plainly see. That, and crashing. A lot. The horror!
Get out of the way, because here comes the Dragonfly, a next-generation radio-controlled flyer that beats its wings just like the real thing. Its wing-flapping flight is stabilized by a tiny tail rotor, but no need to worry about constant crashes—it has a simplified Beginner Mode for the fumble-fingered flyer. Then…