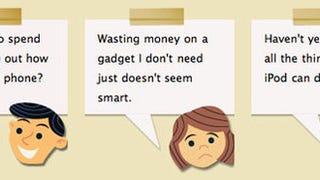 That's the slogan from Last Year's Model. They believe if you buy gadgets that don't suck, you'll use them longer and not need to buy new stuff all the time—thereby going green. Seems logical.
HP will begin instituting a pay cut to its 100,000 employees, with some as high as 20 percent. (HP's CEO Mark Hurd will be taking the max cut.) HP also plans to cut back other employee benefits such as 401k plans. [WebGuild]
As an intern for Gizmodo, hobomodos have become my favorite part of our daily gadget deals: my marketing information in exchange for free TiVo cookie cutters? It's yours before you can even say "leaky faucet."