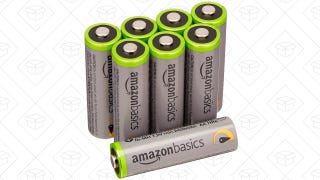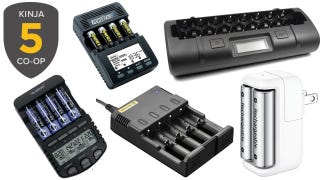 Your nominations are fully charged and now it's time to find a winner. Check out the contenders and then head for poll.
Last week, and in a landslide vote, you awarded Eneloops the honor of best rechargeable battery. Today we're calling on you to nominate the best AA battery charger, and we're expecting a much more interesting set of contenders and a much tighter race.
There's the moment when your phone goes below 20 percent power and you get that foreboding notification—if you don't plug in soon, you're going to die. In some situations, even careful planning can't guarantee a recharge. That's why there are portable power packs—when the power is out, or your travels take you far…
Sanyo's Eneloop label, known for Wii charging stations and batteries, is taking cycling for a spin with the CY-SPG226 battery-assisted bicycle. Don't let the 85km range fool you though—there's still pedaling to be done.
Sanyo's just expanded their lineup of rechargeable batteries to include Cs and Ds, two sizes Jesus can't wait to get his hands on. They're rated as being rechargeable up to 1000 times, which is quite a few sessions of whatever it is you're doing with C and D batteries. There's also a new charger for these, and all of…
Duracell's latest NiMH rechargeable batteries have two neat features. One, they hold power for up to 365 days without use, and two, they come pre-charged, so you won't have to juice them up before plopping them into your camera. The first is great so your batteries are always ready for use even if you haven't touched…
Energizer just announced that it's trying to get the "tech-wired and wireless younger generation" to switch to rechargeable NiMH AA and AAA batteries. The best way to reach that coveted consumer demographic? Colorful USB chargers, of course! The Energizer Duo can plug into a USB jack or wall outlet, comes in red,…