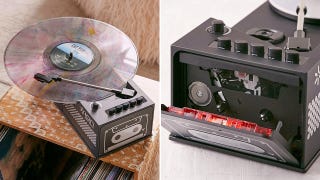 Are you happy now, hipsters? Instead of walking away from your fashionable fad at its peak hipness, you've let it linger long enough to become a consumer commodity. Not only is Urban Outfitters thriving, it's now spawning unholy consumer electronics like this cassette-playing turntable.
If pressured, Jesse England might have a tough time justifying the existence of his unique creation—known as the Universal Record. What looks like an extra-thick piece of vinyl is actually a Bluetooth adapter for record players. But instead of transmitting sound from a turntable through a wireless speaker, it allows…
It doesn't get much more raw than the Sex Pistols. Unless it's the Sex Pistols on vinyl. Or rather, the Sex Pistols on a record player powered by a homemade steam engine. Yeah, that's raw. And surprisingly squeaky!
After so much gloss black and faux-brushed aluminum, it's nice to see a device that looks like something I'd drag out of my dad's garage and just marvel at. The Crosley Traveler Turntable weighs 18 pounds and can hold up to six records of any size on its amazing Stack-O-Matic. I know this is circa 1950s technology,…