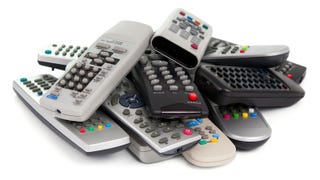 Controlling your home theater system used to be easy—you simply told your kid to turn the knob and presto, Honeymooners. But today's home theater packed with feature-rich TVs, cable boxes, AV receivers, and streaming boxes—and all demanding their own remotes—there's no way the little guy can keep up. Instead, replace…
ThinkFlood has just killed the first RedEye product which went on sale in December for $188, with the massively-superseding RedEye Mini. It costs only $49 and plugs into the iPhone's 3.5mm jack instead of via a clunky plastic dock.
After months of private beta testing, ThinkFlood's RedEye goes on sale today. You control the dock using an iPhone app via Wi-Fi, and it sends out infrared signals to control your AV gear. At $188, it's not crazy expensive, either.