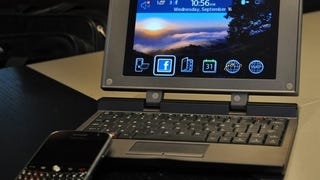 Turns out the Redfly, that netbook-looking device that extends a smartphone to its 8.9-inch display, is doing all right. So all right that the company rolled out support for BlackBerry. I still would rather get a netbook.
The Register stumbled across a patent for the "Smart Interface System for Mobile Communication Devices", a smartphone extension dock that lets you easily plop your phone onto your home network and connect peripherals.
We just got hands-on with the Redfly Mobile, the Palm Foleo-ish Windows Mobile UMPC that feeds off of the processing power (and user interface) of your WinMo phone. Here's what we think.
Remember the Palm Foleo? This REDFLY Mobile Companion is just like that, except it's for Windows Mobile phones. The MC looks like a small 8-inch screen laptop (styled in Famicom colors), has a keyboard and touchpad, but weighs 1.9 pounds and measures 9x6x1 inches. The point of this? To hook up to your Windows Mobile…