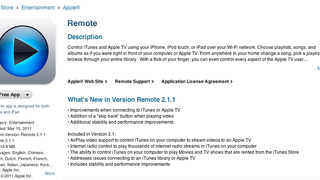 Version 2.1.1 of Apple's Remote app is now available, which adds a "skip back" button, stability improvements, and "improvements when connecting to iTunes or Apple TV." [iTunes]
Last week, I asked just why Apple has left its Remote App to rot in the App Store, unupdated despite new hardware coming out. The reason? One guy wrote it, and now he's working on other things.
A newly unearthed Apple patent application describes a process in which an iPhone could control a MacBook or iMac, remotely.