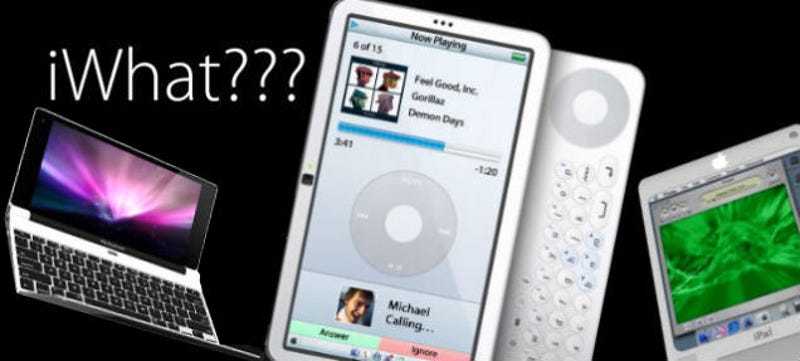 With only four days to go before Apple unveils a handful of brand-new products, the rumor mill is churning at full speed. Now seems like a good time to recall the various dream concepts, predictions, and leaks we've seen over the years—all of which were more artful than accurate.
It's Apple rumor season—really, when is it not?—and that means it's also the season of mockups. But the next time you see an appealing iWatch mockup, keep in mind how deeply, deeply wrong most of us have been at guessing what the future of Apple might look like.
Architecture is the art and science of designing buildings—solid, tangible structures. These images, however, depict views of spaces that have only ever existed in silico—and they're breathtaking.
Mayan Modernism: Designs for a huge museum of Mayan Culture, planned for completion in Guatemala City by 2017, are "inspired by the language of Mayan temple architecture," according to its architects. I wonder if the jungle overgrowth comes included. [Over,Under and Harry Gugger Studio]
At first glance, this winning design for a mixed-used complex in Zhejiang Province design by Liu Xisang seems like just another glassy tower project. But take a closer look at the facades, which are laced with a network of outdoor spaces spiraling upwards to connect the ground floor to the roof with…
An animation studio can spend days rendering a scene that features water, smoke and other substances that affect light (and its simulation) in complex ways. Now, a team led by Disney Research Zürich has developed a computational algorithm that can reduce rendering times for such scenes by a factor of up to 1,000.
The architectural rendering is a subtle knife. It can be used to convince, intimidate, and generate laffs—or all three at once, if you're really good. Such is the case with this collection of renderings, which show proposed designs for the upcoming 2017 World Expo in Kazakhstan.
If you are sucker for all things 8-bit and all things NES-like I am-you will love these three-dimensional renderings of classic Nintendo Entertainment System games by Justin Buonvino. So much that you will put them on your desktop background, just like a did one minute ago.
Ah, where would science be if not for the contributions of the humble microscope? Did you know that the development of the world's first microscope began in 11th century Iraq, when scientist and polymath Ibn al-Haytham recorded all sorts of data about lenses, binocular vision, mirrors and observable properties of…
I never thought that speakers could give me the same feeling that I get when I see a beautifully designed car, but some of the entries in C4DCafe's speaker rendering challenge have done just that (and some of them are just plain weird). The only problem is that putting one of these designs in my home would make all my…
It seems we have gotten so obsessed with news and concept renderings of the iPhone that we forgot about other, more badass futuristic phones like the Sony Ericsson Ai. This phone may not have anything to do with Sony Ericsson, but the pictures definitely look pretty. This phone, supposedly going by the name "Ai,"…