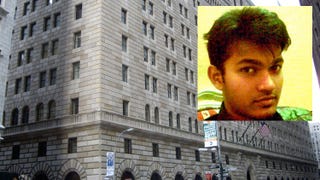 This guy is Quazi Mohammad Rezwanul Ahsan Nafis, a 21-year-old Bangladeshi student who traveled to the United States with the intention of carrying out a major terrorist attack. He wanted to blow up this building, 33 Liberty Street, the home of the Federal Reserve Bank located in the heart of the New York City's…
The fight for the 700MHz spectrum has reached a milestone: an anonymous bidder has made a $4.7 billion offer, surpassing the minimum reserve price of $4.6 billion.
A reliable source just gave us some more details on the leather-bound Thinkpad Reserve.
•The Limited Edition run will go for $5000
•is being made to celebrate the 15th anniversary of the Thinkpad
•more will be revealed on June 15th.