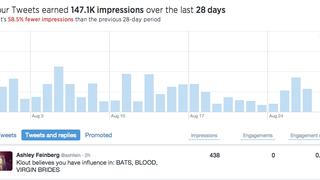 After quietly testing out its handy new analytics dashboard just over a month ago, Twitter is officially opening the service up to the rest of the world. And the results can be—er, kinda depressing.
Twitter just revealed that pop-up interaction notifications will roll out in the coming weeks. Meaning that when you're logged on via twitter.com, you'll get notifications for replies, retweets, and faves—assuming you've tweaked your settings to display them. [Twitter]
A quick tweet can blast through Twitter like wildfire. All it takes is a click of a button and anyone can help push that 140 character shout just a little further through cyberspace, until everybody knows. This is what it looks like when that happens.