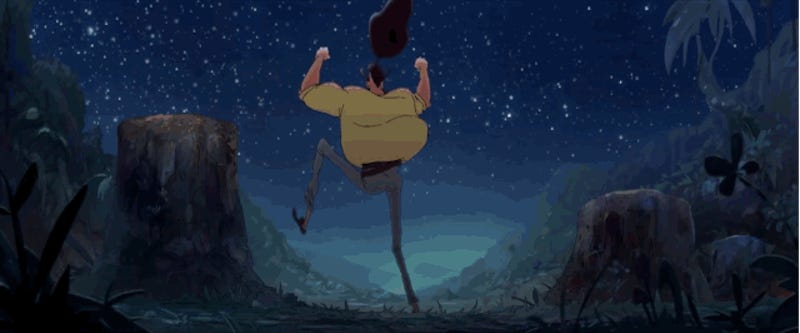 The Reward was one of our favorite short films of 2013, a dialogue-free animated tale of two men who go on a heroic quest and become great friends in the process. Now the creators have released a longer prequel film and are raising funds for a webseries.
We went gaga for the short fantasy buddy film The Reward, and now the creators are looking to turn it into a full series, with a little crowdfunding help. You can also help fund a soccer ball generator that's helping bring light to people in resource-poor regions, and a fantasy adventure comic about adventurers…
Drop everything you're doing and hit play on The Reward, a graduation film from Denmark's The Animation Workshop. This fantasy film about a pair of wannabe adventurers who stumble upon a treasure map plays with a mishmash of animation styles (including a few shades of Adventure Time contrasted against rich light…
This summer, io9 is going cryptozoological. We're offering a $2000 bounty to the person who sends us the best authentic photo or video of a "cryptid," or mystery animal. [More]
Microsoft is offering a $250,000 bounty for the Conficker worm's designer. Microsoft isn't alone in this hunt for the writer of the biggest PC worm in recent history.
A word of caution to parents: taking away you child's beloved gadget as a form of punishment may seem like tough love, but it can backfire in a big way. Consider the case of a 15-year old Canadian teenager that ran away from home after his parents took away his Call of Duty 4 gaming privileges. The child has been…
TiVo is officially saying bye-bye to their rewards scheme, and any unused points must be spent by May 28, this year. To get the reward points blowout well underway, TiVo has added a few extra choices to the scheme, including a My DVR Expander drive, (28500 points); TiVo Rewards Entertainment Package (120,00 points)…