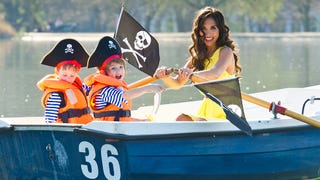 A German court has ruled on a copyright infringement case that dates back to 2011 and the verdict has disturbing consequences for parents. The ruling found that parents must identify their child by name as the one responsible for downloading a torrent or they will be held responsible for the violation.

Did you think it was weird when Rihanna, the multi-platinum recording artist, did a song for Star Trek Beyond? On paper, it was. She's this super-famous, super-cool, music superstar. The kind of person you'd expect not to know a "War" from a "Trek." But believe it or not, Rihanna is a huge Trek fan. So it's actually…
I always wonder if it's possible for the musicless music video series to get any more awkward and the answer is always yes. This one might be tough to top though because Rihanna's Stay music video with Mikky Ekko basically features her soulfully singing in a bathtub. Without the singing and just the bathtub and man,…
Singer and actress Rihanna is leaving her world tour to check into a sex and love addiction program at the Center for Relationships and Sexual Recovery at the Ranch, Tennessee. According to a source, she's still obsessively in love with Chris Brown," the ex who mistreated her.
Don't post too many Instagrams in a row. Stop photographing your food. Hefe is best for capturing supernatural events. No, stop, you're all wrong. Rihanna has the best advice for how to take the perfect Instagram:
Universal's board game adaptation ditches the round pegs and plastic destroyers of the original Battleship for a high-seas skirmish between the US Navy and aliens. The Wonder-Con panel featured tons of new footage, showing us the movie's aliens and its zany sense of humor. And we heard Rihanna's answer to "Hasta la…
YouTube is big fat no fun having missy when it comes to copyright rules. They're so afraid of pissing somebody off (and getting a lawsuit) that they'll even pull official videos now. Like today, when a prankster submitted a copyright claim against Justin Bieber's Vevo and YouTube took down his page.
Sunday's BET Awards were a lot of fun. Particularly fun? Chris Brown, his ex-girlfriend and former assault victim Rihanna, and Rihanna's current boyfriend Drake all being called onstage as winners at once. The culprit? A confused girl with a tablet.