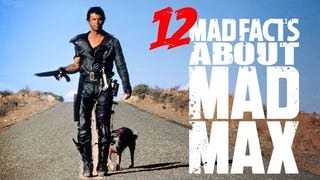 One week from today, Mad Max returns to our screens in Mad Max: Fury Road. But that post-apocalyptic road-rage survivor wouldn't be around today if he hadn't starred in two incredible movies, decades ago. Here are all the weirdest facts you never knew about the making of Mad Max and The Road Warrior. Plus an exclusive…
Patton Oswalt has cooler toys than you. That's because the actor/comedian can commission them directly from action figure customizer Sillof, maker of Steampunk Justice League, Samurai Star Wars, and many, many more. Oswalt commissioned a "Star Wars meets the Road Warrior" line, and Sillof did not disappoint.
Let's say the end of the world as we know it is coming — but someone offers you a priceless spot in their guaranteed-to-be-safe bunker, so you can be one of the chosen few who rebuilds the Earth. Would you want to survive, and emerge into the post-apocalyptic wasteland? Would the positives of playing a role in a new…
These days, every cool science fiction universe is a "franchise," meaning that it's a piece of intellectual property separate from any particular creator or even set of characters. It wasn't always that way — everything changed in the 1980s.
There's been a lot of movement on the Mad Max 4 front in the last few days, including confirmation of the movie's title, a date being given for production beginning, and director George Miller talking to reporters about the project.
Have you dreamed of firing up your "Black on Black" Interceptor, tossing back a handful of Dinki Di dog food, and driving off to combat post-apocalyptic terrorists and feral children? Then AUTOart has just the thing for you (assuming you're about four inches tall, that is). Their 1:18 scale die cast replica of Mad…
Click to viewYou've just seen Doomsday, and you're pumped to strap a bolt-gun to your car and go on a mohawked demolition-derby frenzy. Luckily for you, there's a whole society (cult?) devoted to reenacting Mad Max: The Road Warrior on the highways of America... and they've only gotten thrown in jail once. Details and…