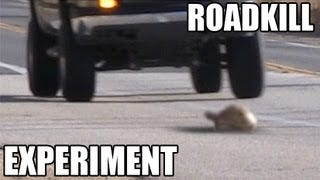 Our friend Mark Rober from NASA makes some awesome videos, but this science experiment must be his best yet. He basically showed that six percent of the drivers out there are sadistic animal killers.
Bats have a habit of flying close to the ground while out foraging in order to protect themselves from airborne predators. So what happens when a new road gets put through their normal hunting grounds? Unfortunately, a meeting between a low-flying bat and a car usually goes poorly for one of them. Currently, the usual…
Found dead in the road, this unusual white creature captured the hearts and mind of Alexandria, Minnesota. Everyone had a theory about the origins of this mysterious animal.
A new ad in Australia highlights the dangers of crossing the road with your MP3 player rumbling your inner ear canal at full volume. And of course, it shows the iPod in a new twist of Apple's original silhouettes campaign, now using the headphones cable as a way to draw the place in which a body lies dead. Ah, nothing…