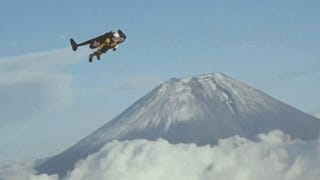 Looking to reclaim a little sense of wonder? Check out this breathtaking new footage of Swiss pilot Yves "Jetman" Rossy zooming around Japan's iconic Mount Fuji with an eight-foot-wide, rocket-powered, carbon-fiber wing of his own invention strapped to his back.
With Space Chimps officially the most anticipated monkey movie of the summer, it's time to take a serious look at our spacefaring simian cousins. (Especially after we discovered our readers are as obsessed with monkeys as we are.) And it turns out there are way more of them than we'd realized, including space-monkey…
The year is 2199, and you've just entered the long phase of your thirty-year journey to the outer reaches of the galaxy. You're about to enter suspended animation when, oops, something goes wrong. You end up stranded an a decent-sized chunk of asteroid, and thanks to the technology of the future, you have a…
You may remember that Virgin Galactic planned to build a Spaceport in New Mexico. Well, a winning design has now been chosen, and construction on the 100,000-square-foot facility is set to start in 2008. Is it just me, or does "spaceport" sound a little bit too sci-fi?