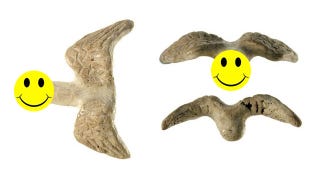 Amateur archaeologists have been using metal detectors to uncover a trove of ancient Roman artifacts in Britain. Among the centuries-old goodies discovered in 2011 were a pornographic knife handle and a couple of winged penises. Their purpose? To protect the possessor from evil, especially evil wielding a penis of its…
I'm stunned by the scale, accuracy and mind blowing detail of this massive 200,000-piece Lego Roman Colosseum, made to minifig scale. Built for the University of Sydney, it shows both the Colosseum from two thousand years ago and its current state.
Gladiatorial games came to an eventual end within the walls the Roman Colosseum in the 6th Century CE, but Romans continued to use the spectacular structure in a variety of ways.
Martian architecture will have to be different from any existing styles on Earth, say 53 percent of respondents in this poll at NewMars. But weirdly, 15 percent believe that we'll build in "a mixture of Greek and Roman style" on Mars. And another 9 percent each believe we'll build in an "Egyptian" or "Celtic" style.…