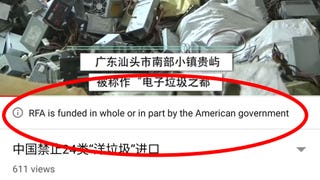 Confirming an unusual screenshot which circulated earlier this week, YouTube has officially announced its intentions to mark content from certain news agencies as "funded in whole or in part" by whatever state happens to be their patron. In short, the platform is calling out propaganda.

The ominous cloud of doom surrounding the ongoing U.S. investigations into alleged Russian interference in the 2016 federal elections got a little darker on Tuesday, with Russian state communications agency Roskomnadzor allegedly threatening retaliation against Google for suggesting it could lower government-funded…
The Moscow Times has a fascinating look at the Russian media outlet RT, formerly known as Russia Today. The Kremlin-funded operation is highly secretive, thanks to non-disclosure agreements that employees are forced to sign, but the Moscow Times was able to get a peek at how the RT sausage gets made.

In a surprise move, RT (formerly known as Russia Today) has been banned from posting articles, photos, and videos to Facebook. The ban was instituted yesterday after RT allegedly ran a pirated stream of Obama's last press conference. The ban is scheduled to be lifted at 2:35pm ET on Saturday, the day after Trump's…
Having trouble trying to update to Windows 8.1 RT right now? That's because Microsoft had to temporarily pull it thanks to an installation "situation." It should be back soon.
It has a more dynamic interface. It has Office inside. It can run two apps on the same screen. And it has a USB port and a built-in kickstand. The iPad has none of these things, and the Microsoft Surface does. So why does Microsoft's first tablet already seem to be on the ropes? According to one estimate, Microsoft is…
The VAIO RT is Sony's beast of an all-in-one PC, an "extra-widescreen" (read: 16:9) 25.5" display, created with designers and video editors in mind. It's big feature is that it not only has an HDMI-in port in order to work with HD content, but it also has an HDMI-out, for connecting a second monitor. Other features…