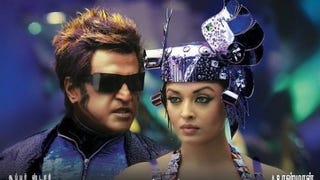 We've been excited for Endhiran, aka Robot, for years now, and India's big-budget robot adventure is finally coming out in about a month. This new trailer features dancing robots, Terminator shout-outs, and crazy action set pieces.
We've been curious about Shah Rukh Khan's superhero film, India's most expensive movie ever, for ages. And now it seems if you live in Miami, you can get an early look at what the fuss is all about. Now it turns out the movie, titled Ra.One, will be filming in Miami in February. We've heard several synopses of this…
Indian mega-star Shah Rukh Khan (SRK) wants to produce the company's most expensive movie ever, an untitled science fiction film about kids whose wishes start coming true. Khan, the star of international hit Om Shanti Om, was supposed to produce and star in S. Shankar's Robot, but bailed on the project. Now he wants…
Finally, some real news about the Bollywood robot flick that everyone's been rumoring about. It looks like famed director S. Shankar has locked in "South India's darling" Rajnikanth, pictured here in front of a glowy yellow background, as the main actor in his groundbreaking sci-fi film Robot.
Another casting rumor for S. Shankar's long-awaited Robot. This time, it's Aamir Khan, a serious actor and star of Rajan Hindustani and The Rising. Also, we finally have a plot description: a scientist creates a robot companion for his disabled child, but the robot goes on a killing jag. [Bollycircle]
A Bollywood robot movie is back from development hell. S. Shankar's Robot has been in development since 2001, but now seems to be back on track to start filming next year.