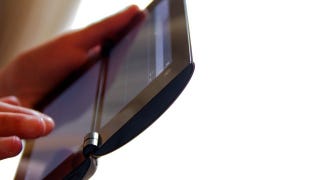 It's got the same dual 5.5-inch screens, and the same 3G power, courtesy of AT&T. Just not sure about the name. What does the P in Tablet P stand for? Pencil case? Purse? I don't understand this.
Do you remember Sony? Not the guys who let your PSN account get hacked, or the ones who loved their proprietary formats more than their customers. The Sony you grew up with, who made the gear you couldn't live without. I hope you do. Because it looks like they might just be back.
These tablets, codenamed S1 and the S2, are why we need Sony—the Sony we love—in a world where almost every gadget of consequence is effectively a blank slate for software.
Of Sony's tablet offerings, the dual-screened 4G S2 tablet will be hitting AT&T exclusively, for an undisclosed price on an undisclosed day. Talk about keeping the cards close to their chest, eh?
Sony announced their dual-screened S2 tablet today. It's not the only twin-screen tablet, but considering recent ill-conceived efforts from the likes of Acer, Toshiba and Kyocera, we're a little skeptical. With the S2, Sony's basically cut a 10-inch screen in half and stuck a hinge in between. How much of a benefit…
Leica's finally got a price for its 37-megapixel monster S2, with its massive 30x45mm sensor: $26,000. That's body only. A spare battery charger will cost you another $425. Yours, you rich guy you, in October. [DPReview via Wired]
On paper, the Samsung YP-S2 is just another shuffle-beater, a 1GB player for $39. But in person, it's the most stylish of its class, in five colors, including those below and a white with faux marble grain. (Sadly Samsung didn't have that one on hand.) It charges via a removable USB dongle that plugs right into the…
Recall that Sony S2 Sports Walkman we wrote about 3 weeks ago, you know, the shiny one that's good for running? Well it turns out the S2 will use an internal "G-Sensor" to automatically switch to songs that match your running tempo and acceleration. They call it, "Music Pace." And, the player can be shaken, like a…