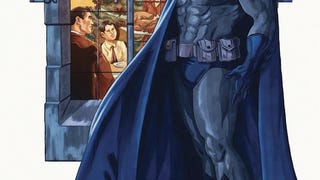 Mark Dos Santos imagines a world in which illustrator Norman Rockwell packed up his easel and moved to Gotham City, where he reflected a very different side of American life. Some of his Gotham Evening Post illustrations capture moments with the Bat-family and their rogues that are as sweet as any trip to the malt…
Today we have more Motorola television ads from illustrator Charles Schridde. If you recall, this series ran in Life Magazine and the Saturday Evening Post from 1961 until 1963 and was immensely popular for its elegant, futuristic look.
The Motorola television ads below ran in Life magazine and The Saturday Evening Post from 1961 until 1963. These, along with other print ads from the Golden Age of Television can be found in the book Window to the Future by Steve Kosareff. The illustrations posted here are all by Charles Schridde.