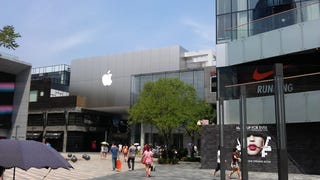 Last week, 9to5 Mac ran a piece from the Beijing Evening News about Apple store scalpers selling Genius Bar reservations. In their article, the Beijing Evening News claims that it's impossible to make an appointment at the Genius Bar without purchasing one from a scalper. But is it really?
We knew people in Asia were paying people in the US to line up for iPad 2s to ship overseas, but we didn't know it was this bad. The NY Post says more than half of the 400 people in line at 8 a.m. gave their iPads to a guy in a BMW X5 for cash.
Scalpers at the Beijing Apple Store just won't quit. First they caused the store to close. Now Apple has reportedly tripled the store's security and requires customers to be escorted upstairs to buy their iPhone 4. Madness!