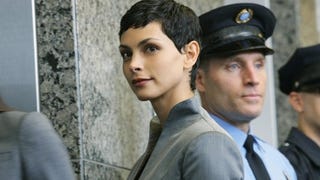 Is the Battlestar Galactica spin-off Caprica in trouble? One site reported over the weekend that the show is shutting down production due to concerns about the scripts — similar to what happened to the V reboot.
Wondering where to get your science fictional allegory fix in a world without Battlestar Galactica? ABC's new reboot of V is stepping up to the plate - and they're also aiming to fix our issues with the pilot.
I have long had a theory that bizarro conspiracy/time travel/mutant superpowers show The 4400 was partly about Scientology. There was the weird cult leader Jordan Collier, the sleekly expensive 4400 building, and the belief that everybody can become superpowered if they'd just donate money or time to the 4400 group.…
Good news for V fans: former Angel showrunner Jeffrey Bell has signed on as showrunner for the highly anticipated remake of the alien drama on ABC. So stop worrying that this is just Scott Peter's 4400 with a new skin.
ABC's reboot of classic alien-invasion show V won't just feel like co-creator Scott Peters' show The 4400, it'll also be filmed in The 4400's stomping grounds of Vancouver. Plus there are more script details.
Miss your 4,400 buddies who disappeared, then reappeared with strange powers? Well, never fret — because the entire box set of the The 4400 TV series is out today, and we've got an exclusive clip from the special features, featuring creator Scott Peters explaining how he came to the conclusion that 4400 people needed…